ABOUT US
It is an open platform where people help each other to offer Salah on time in mosque.
Wherever you go just use this app to find mosques around you.
Every registered member can keep Salah timings updated. Help each other to offer Salah on time in mosque and be a part of noble cause
If you find any mosque is missing from App, you can add it from "Add mosque", Once you add mosque it will go for approval to admin. After admins approval it will feature in App.
Note: Do not misuse this app by publishing wrong data ( Salah time or mosques)
HOW IT WORKS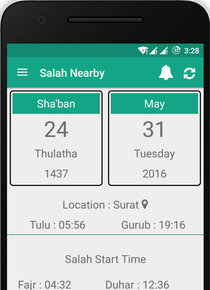 1. See Salah start time of your location and any city in world.
2. See Mosques around you, wherever you go in any city in world.
3. See all mosques around you or any city in map view.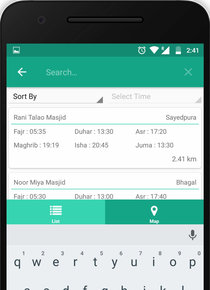 4. Distance of mosques from your location and navigate to mosque.
5. See Salah times of mosques of your city as well as any city in world.
6. Check for early or late Salah in your city.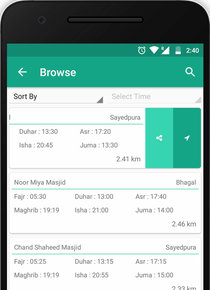 7. Share Salah time of mosque with your friends. 8. Set Salah alarm. 9. Become a member for free and update Salah times of any mosque.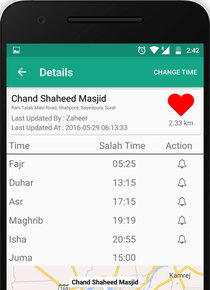 10. Add any missing mosque.
Note: For Best result use "My Location"
Humble request to all of you to become member and update Salah times so that people can of offer Salah at time in mosque
CONTACT US
Email:

contact@ibitsolutions.in
Privacy Policy
Legal Disclaimer and Privacy Policy

© 2016-2017 iBIT Solutions. All rights reserved

Salah Nearby is a utility and information application related to the religion of Islam. The Salah Nearby application is developed and published by iBIT Solutions. iBIT Solutions is not affiliated with and do not support any particular political organisation, sect, ideology or denomination.

iBIT Solutions cannot be held responsible for the accuracy of the content and information provided on this application. Whilst every effort is taken to ensure high standards and quality for the content and information provided within this application, iBIT Solutions cannot be held responsible for any personal loss, damage or crisis sustained as a result of using this application. The information provided in this application is not intended to replace any official information provided by your local mosque or any other religious authority.

Mosques location data are retrieved through the Google Maps API. Users of this application are agreeing to be bound by Google's Terms of Service and Google Privacy Policy. Some mosques which do not feature in Google map and are added by users manually in this application, may not have accuracy of location.

Distance of mosques shown in this application is based on 'By Air' and not 'By Road'.

Salah Nearby •